*This shop has been compensated by Collective Bias, Inc. and its advertiser. All opinions are mine alone. #TearASquare #Brawny #TargetFinds #CollectiveBias
How on earth are we already headed into 4th of July weekend?! Growing up, Independence Day always felt like a mid-summer holiday, but in reality, it's pretty much a summer kick-off. Last year, we did absolutely nothing for the 4th of July because we had an itty bitty baby at the time. I think Allie was just about 5 weeks old this time last year! So since she was so tiny, fireworks were pretty much out of the question so we spent the night relaxing at home as a family instead.
This year, we have a very mobile and energetic toddler, but even though she's older, we're still iffy on the fireworks front and she's not a beach baby whatsoever (yet). So the two most popular 4th of July activities are out of the question yet again this year. But that's okay! Here in San Diego, both of those activities would be a nightmare to try to get to and do with or without a little one. So instead, we'll be spending our 4th of July hitting some hiking trails!
Since so many of you have little ones as well, I thought I'd share a great list of five family-friendly hikes for those of you in Southern California. These are hikes you can very easily do with young children and are a great alternative to the "normal" 4th of July activities.
Mission Trails Regional Park
We've been to Mission Trails a couple times since moving here to San Diego, but we haven't actually hiked it yet (hopefully this summer!). Mission Trails has been called the third Jewel in the City of San Diego Parks System (in addition to Mission Bay Park and Balboa Park). It is also the site of the Old Mission Dam which was originally built to store water for the Mission San Diego de Alcala.
The park encompasses 7,220 acres of both natural and developed recreational areas and has about 60 miles of trails. In addition to hiking, you can also go boating on Lake Murray or camping on Kumeyaay Lake. There are also numerous informative hikes and a state-of-the-art Visitor and Interpretive Center. Centrally located just eight miles northeast of downtown San Diego, it's a very easy place to get away to for an afternoon or even an all-day outing with the family.
Los Peñasquitos Canyon Preserve
We've heard so many great things about the Los Peñasquitos Canyon Preserve. It's located between Rancho Peñasquitos and Sorrento Hills to the north and Mira Mesa to the south and encompasses some 4,000 acres of both Peñasquitos and Lopez Canyons. This is a great hike for those of you who want a little Native American history, dating back as far as 7,000 years ago. The Santa Maria de Los Peñasquitos Adobe (ca. 1823) has been restored and can now be toured. There are ruins of another Adobe (the El Cuervo, ca. 1857) can be found here as well.
The preserve contains over 500 plant species, more than 175 types of birds and a large variety of reptiles, amphibians, and mammals (many are endangered!). You can also find gorgeous waterfalls, a forest of California live oaks, sycamore trees, streams populated by Pacific tree frogs, crayfish and largemouth bass, a freshwater marsh, and various wildlife such as bobcats, coyotes, raccoons and more.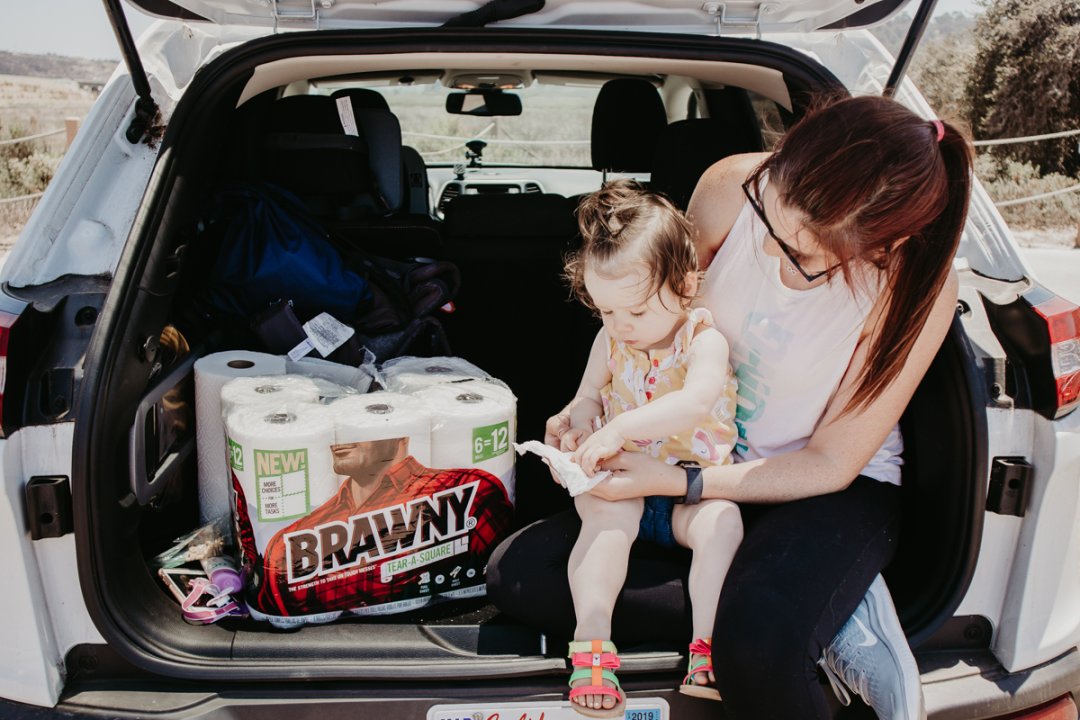 Torrey Pines State Reserve
Torrey Pines is a great option if you want a hike with gorgeous ocean views (as pictured in this post). The reserve has many different trail options so while some may be more challenging, others are very easy and kid-friendly. I highly recommend the beach trail as it overlooks the ocean. It's about a 3/4-mile trail through the Upper Reserve and descends roughly 300 feet to the beach. You can then access the beach via the stairs and walk to the water from there.
This is a very easy trail for older kids. Babywearing is also a great (and easy) option for babies and young toddlers. And if you have older toddlers and/or preschoolers who are wanting to walk and are a little too heavy to carry, they can very easily walk on their own with adult supervision (and a little patience haha).
I first did this hike when I was about 6 weeks pregnant (I had just found out the day before!), and I remembered it being such a beautiful hike. Since I loved it the first time around, we decided to go back this past weekend so we could take our (now) 13-month-old.
Prior to leaving the house, I made sure to make a pit stop at our local target so I could pack up the Jeep with all our hiking essentials: jackets, spare clothes for Allie, a spare diaper, wipes, sunscreen, sunglasses, a sun hat for Allie, a baby/toddler carrier, healthy toddler-friendly snacks, LOTS of water, and of course some Brawny® Tear-A-Square™ Paper Towels. If you have the Target app downloaded to your smartphone, you can get 25% off Brawny Paper Towels with their special cartwheel offer!
With a toddler, Brawny Tear-A-Square goes just about everywhere with us because they can handle anything from your toughest messes to simple, everyday cleanup. This package contains 6 Tear-A-Square 2-ply white premium paper towel rolls. Each paper towel roll has 256 quarter sheets so you have plenty of sheets for all of life's messes.
My favorite thing about Brawny Tear-A-Square is that you're able to decide how much of the paper towel you actually use. For smaller messes, you have the option of using a 1/4 of the sheet as opposed to the full sheet. You can also use half the sheet if the mess is slightly larger or even the full sheet for life's bigger messes. I love not having to waste paper sheets on small, simple spills.
Like all other Brawny paper towel products, Brawny Tear-A-Square paper towels are strong, absorbent and durable. On this hike, we were able to use a 1/2 sheet to clean Allie's face and hands, a 1/4 sheet as a "plate" for her pre-hike snacks, and even a full sheet for wiping up the juice she spilled in the back of our Jeep. We always keep a roll in our cars for this reason! And think about all the possibilities in a home setting!
At home, I tend to keep a roll of paper towels in each bathroom, the kitchen, and our dining room. With kids, this is very necessary! We can use them for cooking, cleaning kitchen counters, appliances, bathrooms, my makeup brushes, juice spills, wiping little faces and hands, cleaning muddy paws, and so much more! The possibilities are endless which is why Brawny Tear-A-Square is one of our top hiking (and home) essentials.
Upon arriving at Torrey Pines, we decided to have a quick snack before starting on our hike. Allie hadn't eaten much for lunch prior to leaving the house so I wanted to make sure she was well-fed and hydrated before heading out into the sun. Dehydration is very serious this time of year so always make sure everyone in your group is hydrated and fed first!
I also used this time to put on sunscreen and get Allie situated in her carrier. I'm not big on babywearing, but I opted to wear her for this hike since there was so much walking to do. She hasn't been in her carrier since she was probably 3 months old, but she did great in it! I highly recommend it if you're hiking with little ones. This is the first time we've taken her hiking and let me tell you, it was quite the workout! I felt so tired but so accomplished and strong at the same time.
Overall, we had such a great time at Torrey Pines. I recommend it to anyone and everyone who's looking for a great, scenic hike. You just can't beat those ocean views and the cool breeze from the water. If you want to experience Torrey Pines for yourself, you can visit at 12600 North Torrey Pines Road, San Diego CA 92037. They're open from 9 am to 6 pm during the summer months and parking ranges from $10 to $20 depending on which beach you park at and the day of the week you choose to go.
Iron Mountain
Iron Mountain is a 5.2-mile trail located just north of San Diego in Poway, California. This is a very popular hike in the San Diego area and leads to the second highest peak in Poway. From the top, you have gorgeous views of Northern San Diego County and on a good day, you can see Mt. Woodson and the Catalina Islands. To make this trail even better, it's dog-friendly (on a leash, of course)!
This trail is rated as moderate so keep this in mind when bringing little ones. Some parents may want an easier trail and others may love a little bit of a challenge to do what works best for your family. Also, keep in mind that there is next to no shade on this hike. So be sure to bring plenty of sun protection and water for everyone in your group!
Elfin Forest Recreational Reserve
This forest isn't located in San Diego but it's just north of it in Escondido, California. The Elfin Forest Recreational Reserve offers approximately 11 miles of hiking, mountain biking, and equestrian trails, as well as picnic areas and scenic mountain viewing points. Here, you can find native plants such as oak riparian, oak woodland, coastal sage scrub, and chaparral. All wildlife, plants, and resources found within the Reserve are fully protected for future generations.
Hopefully, this is a good, well-rounded list of hike options for those of you in the San Diego area. We're so fortunate to live in a place where we have access to so many great places to go hiking! And before heading out this 4th of July, be sure to stop by your local Target to pick up Brawny Tear-A-Square Paper Towels for your outing.
Have you tried any of these hikes? What are your hiking essentials?