*This shop has been compensated by Collective Bias, Inc. and its advertiser. All opinions are mine alone. #GetJohnsonsBaby #ChooseGentle #CollectiveBias

As we near the end of Z's final enlistment in the Marine Corps, we're finally starting to look ahead purchasing our very first home. In the 8 years Z has been in the military (and in the 5 years we've been together and married), he's been stationed at four different military bases in two U.S. states as well as overseas. And in that time, I've lived in more houses than I care to count. So to say we're excited to finally settle down is a huge understatement. We're thrilled.
While we still have a few months before we can officially buy a home or start getting serious about it, we've started the process of looking at homes in various areas to see what kind of home fits our budget and needs. And let me tell you, finding a family home is so much different than finding a home for singles or even couples who are dating or newly married. Searching for a great family home can be very overwhelming so for those of you looking for a new home, this one is for you. Here are 10 home features to add to the top of your house hunting wish list.
1. Outdoor Space
I don't know about you, but to me, this is non-negotiable for families. Unless you're a city kind of family and have no interest in having a yard. But even then, I feel like it's so important to have that outdoor option for kids. I want Allie to have a nice big yard to run around and play in. I want space for a nice swing set and for Jack to run around and get his energy out as well. Super important! So be sure to consider this.
2. Laundry Room On The Second Floor
Oh man, would I LOVE to have a laundry room on the second floor. That just sounds like a dream, doesn't it?! I can only imagine how much easier life would be if I didn't have to carry baskets of laundry up and down the stairs. Not having to move all the laundry from one floor to another and then back again. This is something I feel all moms need to consider when choosing a new home because it would literally be life-changing! (maybe that's a little dramatic, but seriously. I'd kill for this!).
3. Room To Grow
If you plan on having another baby then make sure to look at a home that can accommodate that extra child down the line. If you have two kids now and currently need a three bedroom, then make sure you're actually looking at four bedroom homes. You might not need that extra room right this very minute, but you don't want to be going through the moving process again with a baby on the way. This ensures that the future version of your family will still fit into your chosen home.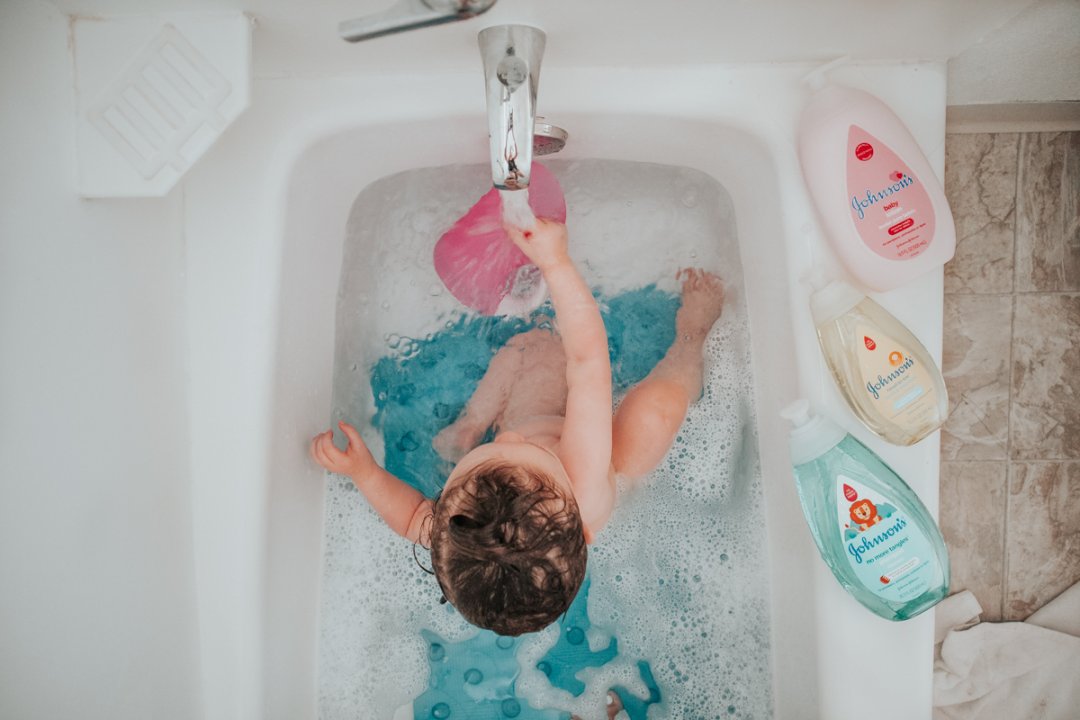 *Hover over the image above to shop JOHNSON'S®!
4. A Great Upstairs Bathroom
Bath time is a huge part of our nighttime routine and having a tiny bathroom and little ones just doesn't work (we know from experience). Ideally, (especially with babies and toddlers) you'll want a larger bathroom with a double sink and plenty of counter space. Storage space for towels and extra bath time supplies is important as well. You don't want to be running back and forth between the bedroom and the bathroom, gathering everything you need. You also want to have enough space in the bathroom to be able to close the door and keep the little ones inside where you can keep an eye on them.
We currently have NONE of this in our current bathroom space so bath time can be pretty hectic some nights. But nonetheless, bath time is a huge part of our bedtime routine and plays a big role in Allie's sleep. We started a bedtime routine the day we brought Allie home from the hospital and a big part of that routine is bathtime. Adding a warm, relaxing bath to your nighttime routine is such a great way to calm little ones down and ease them into bedtime.
Currently, we're obsessing over JOHNSON'S® re-launch of their bath time baby essentials available at Target (yes, every mom's favorite store!). One of biggest concerns for new moms is finding products that are safe for their little ones and JOHNSON'S® never stops raising the bar when it comes to what's best for baby. After hearing feedback from parents all around the world, JOHNSON'S® reformulated their products from the inside out and now they're gentler than ever!
JOHNSON'S® is made with 50% fewer ingredients and without parabens, phthalates, dyes, and sulfates. Their products are hypoallergenic as well. In addition to improving their formula, they've also added more easy-to-use pumps (genius!) and made their washes even creamier!
Currently, we're using the JOHNSON'S® Head-To-Toe Baby Wash and the JOHNSON'S® No More Tangles 2-in-1 Shampoo & Conditioner for bathtime and have loved both so much. The  No More Tangles 2-in-1 Shampoo & Conditioner has been especially helpful in tackling Allie's gorgeous curls (neither one of us have curly hair, but Z's mom and my grandmother both have curly hair so apparently it's in our genes!). 
Once Allie is out of her bath, we use the JOHNSON'S® Baby Lotion to keep her skin soft, smooth, and moisturized. I also have the  JOHNSON'S® No More Tangles Detangling spray which is an added bonus to the No More Tangles 2-in-1 Shampoo & Conditioner. I use this spray after every bath as well as every morning when I go to do Allie's hair. By the time Allie's routine is done, she's calm and ready to transition to bed!
Did I mention that JOHNSON'S® can be found at Target? I believe I did, but I thought I'd remind you. So if you're a Target mom like I am, then this is a win! I'm a huge fan of Target and if you follow me on any form of social media, you know that Allie and I are there multiple times a week. So it makes our lives a million times easier when we run out of our favorite bath time products.
If you're available on August 26th and want to sample the Cotton Touch and the Bedtime lotions, then be sure to stop in at your local Target for an in-store sampling and a coupon! In addition to this in-store sampling, you can also get a $5 gift card at Target when you buy 3 JOHNSON'S® products! This offer is redeemable in-store and online at Target.com from August 12th to September 1st.
5. Closet/Storage Space
We're only a family of three (plus the dog) and storage space is already a huge issue for us. We have ONE closet in our house that isn't in a bedroom which currently houses all of Zack's military gear. There's nowhere to store cleaning supplies, towels, spare sheets and blankets, clothes and items we don't use often, jackets, Christmas decorations, etc. etc. etc. So my office has literally become our storage room and I now work downstairs in the living room. I couldn't even imagine when we have more children. So be sure to think ahead here and pay very close attention to closets and storage space when you're house hunting!
6. Possible Safety Issues
Whenever you look at new houses, it's really important to go through the house with your kids in mind. If you have very young children then things like pools and open staircases can become a huge safety hazard. Just about anything can be baby proofed, but it's nice to think of those things in advance since baby proofing can get pretty pricey. You might also decide to avoid these hazards altogether until they're older.
Another thing to consider in the safety department is how much traffic your road gets and/or how close to the road your home is. This goes for more older children who may be outside playing. If you have kids that love riding their bikes, but the house is on a very busy street then you may want to consider another neighborhood. So always keep these things in the back of your mind as you're touring homes
7. Kitchen Space
Even in a household with just two adults, a toddler, and a dog, our kitchen feels so incredibly small somedays. I couldn't even imagine when we go to have a second baby or even if we chose to add another dog to our home. I'd love a home that has plenty of counter space needed for cooking family meals and even a bar space where the kids can sit right in the kitchen to eat breakfasts or snacks while I'm in there. And not only that, but we need a larger walking space so I'm not constantly stepping on a toddler or dog. If you have little ones, you know this struggle.
8. A Separate Play Room
This isn't always doable, but if you can find a home with a separate play space, then I highly recommend this! It's really helpful in separating playtime and bedtime and prevents little ones from inching out of bed to their toys in the middle of the night. The only "toys" that will go in Allie's room are books. Everything else will be in a separate room designed for play.
9. Nearby Schools
If you have children who are either in school currently or will be going to school in the future, then it's a good idea to check out the nearby schools. You don't want to be stuck in a crummy school system and end up having to move once your children are school-aged. Think ahead here so it's one less move later on!
10. The Location
This one is HUGE. The location of your home is so important! Always keep in mind how far of a drive it is to the nearest city or heavily populated town. Look for the closest grocery store, doctor's offices, gyms, jobs, daycares, schools, hair/nail salons etc. How far of a commute is it to your work? How far is it from friends and family? Is it on a super busy street? Is it in the middle of nowhere? There's so much to take into consideration here. So always look at it from all aspects prior to making a final decision.
At the end of the day, we all want a home that is family-friendly and works for everyone. So if there's something on your list that is a must-have for your family, then make sure to always keep it in mind when house hunting. And before you purchase a home with a small bathroom space, make sure you're thinking ahead to bath time!
What do you look for when searching for a family home? Have you tried JOHNSON'S® since their re-launch?