This shop has been compensated by Collective Bias, Inc. and its advertiser. All opinions are mine alone. #WhatFuelsRight #CollectiveBias
If you've been following along for a while now, you know that we've been on a very long journey with our dog, Jack. This time last year, this poor dog went through some very extensive training to prepare for the arrival of our daughter. Like many pet owners, we believe that our dog is just as much a member of this family as anyone else so getting rid of him was never an option in our minds. We really needed to create a safe home for our daughter to come into and I couldn't be more proud of how far this dog has come in such a short amount of time.
Now that Allie is in the picture, we make sure to go the extra mile every single day to make sure our dog is well taken care of (and never forgotten!). Here are five super easy ways to keep your dog happy and healthy in your everyday life.
Take them to the dog park
Before we put Jack in training last spring, a trip to the dog park just wasn't doable at all. He'd try to eat everyone in sight (not even exaggerating there). But nowadays, a trip to the dog park is much more doable. Here's still not the biggest fan of other animals and cannot be off leash quite yet. But he's getting there. For now, it's just nice to be able to get him out and allow him to wander a bit further from us and explore his surroundings.
If your dog is better behaved, then allowing them to go off leash when possible is so beneficial for them. It allows them to run and exert energy which in turn, will make them much better behaved at home. Not to mention a trip to the dog park can also get them socializing a bit as well. If your dog loves other animals then they may love having another dog to rough house with or at least interact with. Like kids, a park is always a good option for a dog.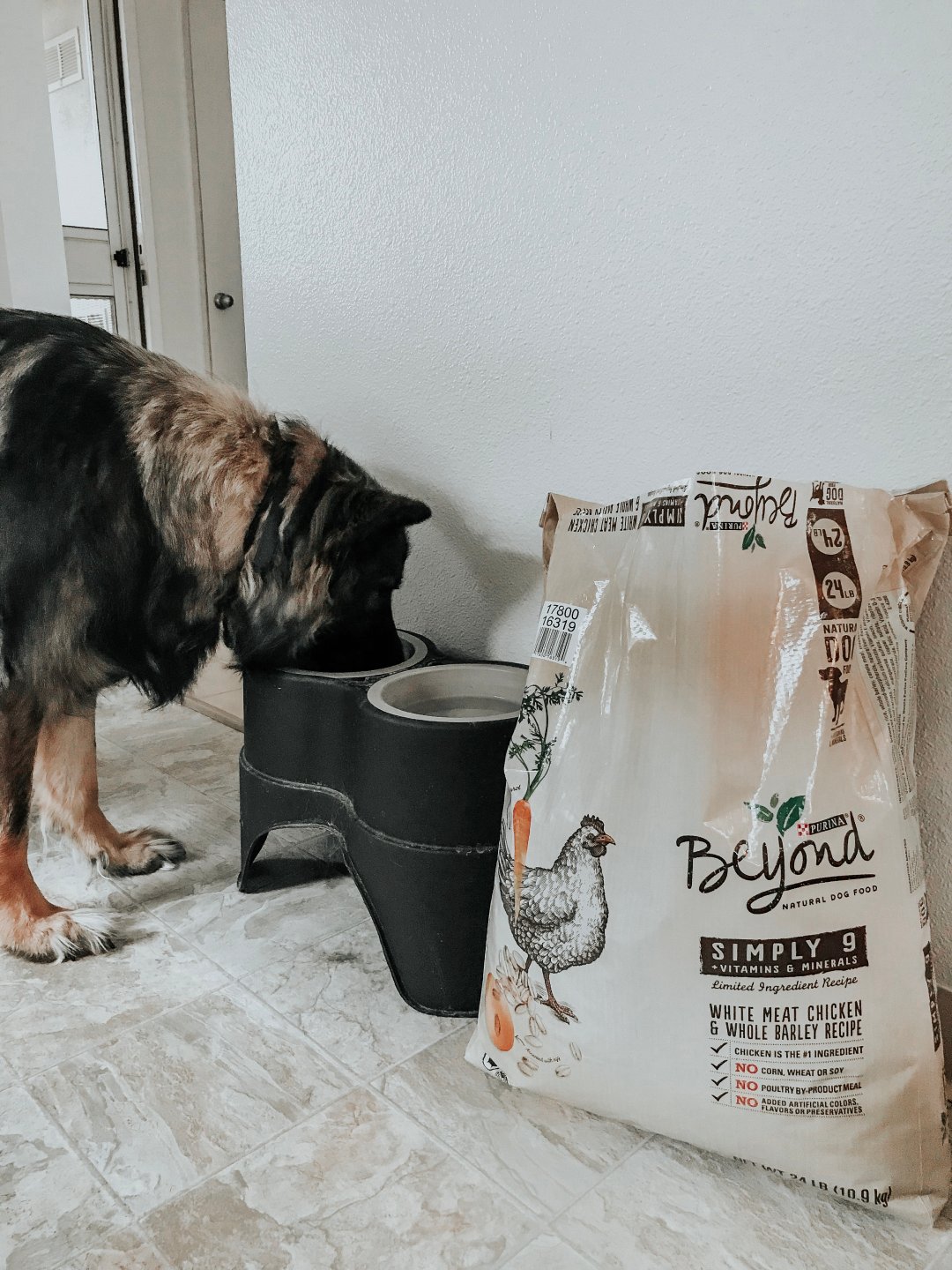 *Hover over the image above to shop Purina!
Go for a jog
If your dog isn't quite ready for the dog park, a nice jog around the neighborhood can be just as good. Jack loves going on strolls through our neighborhood. It allows him to get out and exert some energy without all the distractions of a dog park type of setting. And for a German Shepard, regular exercise is so important for him so we always make it a priority to get him out of the house.
Give them a good grooming
Whether your dog is long haired or short haired, a good grooming can make your dog look and feel a million times better. Since our dog is long haired, it easily takes me a few hours to really brush out any mats he might have and really get his coat looking and feeling good. But it's always so worth it when I spend that extra time on it.
Keep their teeth clean

A dog's teeth can be so easy to forget about sometimes. I'm not sure what it is, but sometimes you just don't think about them or think that they need to be cleaned. But they do! Their dental hygiene is so important. So don't forget to focus on this!
Feed them the best
We've always been big on feeding Jack only the best dog food. Recently we came across the Purina® Beyond Simply 9 Dog Food at PetSmart and decided to try it out. Jack took to it instantly! He's been loving it ever since. We also decided to change it up a bit and let him try the Purina® ONE Smartblend True Instinct Adult Dog Food (in Turkey and Venison Tender Cuts in Gravy). We'd never given him wet dog food before so this one was like a little extra treat for him one night.
We choose Purina because they provide complete and balanced diets for pets. Their dog food contains protein, is grain-free and contain natural ingredients. This is a huge win for us as loving pet owners.
We always shop at PetSmart for everything pet related. They have the widest variety of premium quality Purina products and they're always at amazing prices. Not to mention, you can physically bring your pet in the store with you! Zack used to bring Jack in with him all the time when he was a puppy and he always loved being able to go in and interact with other dogs.
Currently, PetSmart has some amazing deals going on for pet owners! All these amazing deals start on March 4th so be sure to check out your nearest PetSmart location! To hear more stories about how pet parents are going the extra mile for their pets, be sure to check out the social hub here!
How do you keep your dog happy and healthy?
SaveSaveSaveSaveSaveSave
SaveSave
SaveSave
SaveSave
SaveSaveSaveSave
SaveSaveSaveSave