*This shop has been compensated by Collective Bias, Inc. and its advertiser. All opinions are mine alone. #HappierFirstMoments #ForBetterBeginnings #CollectiveBias
Well, we did it! We survived the first 6 weeks with a newborn…almost. She turns 6 weeks on Sunday. But close enough, right?! I can't believe how fast the last month and a half has gone. It's been full of so many highs and lows as well as so many changes. I feel like getting through that first month and a half is almost like an accomplishment. It's a milestone. And it's so exciting to have made it through!
So far, I'm absolutely loving motherhood (in case you can't tell by the millions of baby photos I post to social media every single day). It can be frustrating and exhausting some days, but I've never felt more like myself than I do now. It's like I was born to be a mom. I love it! But regardless of how much I love being a mom, these last 6 weeks were definitely an adjustment. So here are my top tips for surviving those first 6 weeks.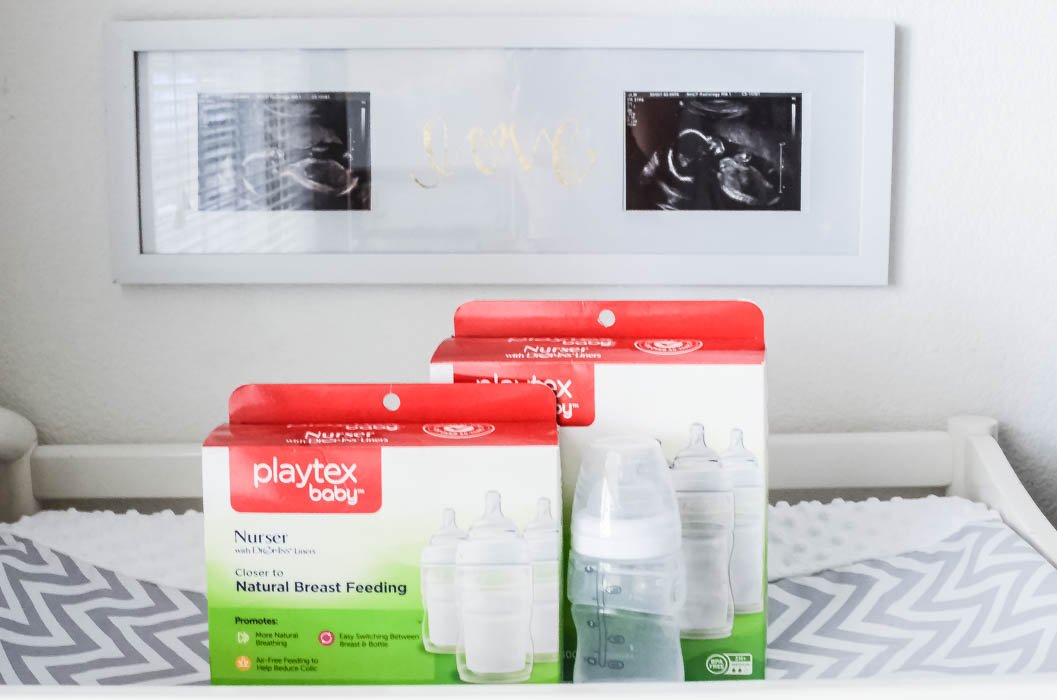 Build Your Tribe
We've all heard the saying that it takes a tribe to raise a child. Well I wholeheartedly believe in that. You do not have to raise your child alone. And you shouldn't have to either. Be sure to reach out to your friends and family and really take the time to build that tribe. Make sure that you're surrounding yourself with people who are positive, loving and supportive. Those who are going to be there for you throughout your pregnancy and after the baby's born. Those who are willing to help you when needed.
This is also a great time to make any cuts from your life as well if you find this to be necessary. I made a couple cuts throughout my pregnancy (one being a family member) and it made pregnancy so much smoother for me. Don't feel obligated to keep people in your life simply because they're family or because you've been friends your entire life. If that person doesn't have a positive impact on your life, then pregnancy isn't the time to deal with them. This is the time to do what's best for you and your baby. So make those changes if needed!
Ask For Help
Now that you've built your tribe, don't be afraid to ask them for help! After all, that's what they're there for, right?! I admit, I'm horrible at asking for help, even from Zack. I just like being able to do things on my own and I feel a million times more successful when I'm able to do things without the help of others. BUT being a new mom can be stressful and challenging. There's nothing wrong with ending help so if you need it, ask for it!
Gather Your Resources
This was super important to me after Allie was born. The big thing I wanted was postpartum depression resources. As someone who's experienced depression in the past, I knew I'd be prone to depression after she was born. So I gathered as many resources as I could there. It's also important to gather resources on breastfeeding (if you choose to breastfeed), financial resources, childcare, parenting classes, etc. Talk with your doctor to learn more about the classes your hospital provides to new parents and be sure to have all that information on hand just in case you need or want them.
Get Out Of The House
I know doctors will tell you not to take your child out for x weeks, but if you ask me, that's just not realistic. If I stayed in the house all day, every day then I'd easily develop post part depression. And that's the last thing I want or need right now. It's good for your mental health to get yourself out there. I don't suggest highly populated areas until your child has their shots, but it's not going to hurt anyone to grab coffee with a friend or spend an hour wandering Target. I promise you'll feel better if you get out and do something.
Get Active
First and foremost, be sure that physical activity is approved by your doctor. What works for me might not work for you so anything your doctor says should come before anything I say. With that said, staying active has helped me a ton these last 6 weeks. I'm not completely back at the gym full-time yet (next week will be my first full week back!) but I'm still getting to the gym once or twice a week as well as taking Allie for walks almost on a daily basis. Being active releases endorphins which are super important to keeping your mental health in check.
Prioritize
This was huge for me these last six weeks. Right now, I'm solely focused on adjusting to life as a WAHM (aka, work-at-home mom, for those who don't know!). Allie and Zack are at the top of my priorities list, followed by work (this blog) as well as school. I'm in the process of adjusting to our new life and settling into our own routines. Once I'm settled a bit then our priorities will shift a bit.
Stop Feeling Guilty
The moment I went into labor, I put my phone on silent and 6 weeks later, I have yet to turn it back on. For me, answering phone calls and text messages within 30 seconds just isn't a priority of mine right now and I feel zero guilt for taking x hours or days to get back to someone. If it's important, they'll call or get in touch with Zack. Otherwise, it can wait. Don't feel guilty for changing your priorities and focusing on yourself and your family. You are not obligated to make everyone else happy.
Stock Up
I promise you, the least thing you'll want to do the moment you get home from the hospital is go on a Target run…well, unless you're me. I was at the gym and Target just days after getting home. BUT a vast majority of women aren't going to find errands fun in those first few days or weeks. So be sure to stock up on everything you may need during that time period. Baby items, groceries, hygiene products, pet food, miscellaneous household items, etc. Save yourself the trip to the store!
Use The Right Products
There's nothing more stressful than bringing home a newborn only to realize you have nothing useful. We all know to buy the basics like diapers and wipes, but what about the products that just make your life a bit easier? Even something as basic as choosing the right bottles for your baby can make your life a little easier. Trust me. I know this from experience.
Probably one of the more stressful situations for me in the last six weeks has been feedings. I admit, I chose the wrong bottle. Which I honestly didn't think was possible. A bottle is a bottle, isn't it? Wrong. This one leaked all the time. It made those late night feedings more stressful than they had to be because half the bottle was leaking all over her face and neck and even onto my shirt and the bed. It was messy. In addition to the leaking, Allie was taking in way too much air when she drank from them. This led to an immediate scream fest the moment she was done drinking because she had so much gas built up. So of course I began doing some research to find bottles that would actually work for us (something I recommend you do long before your child actually arrives!).
Enter the Playtex Baby™ Nurser® with Drop-Ins® Liners. These things have been lifesavers! I bought them at Target and ended up getting a 3-pack of 4oz bottles along with a 3-pack of 8oz ones. First off, these bottles are clinically proven to be closer to breastfeeding as they simulate the same suck, swallow and breathe patterns as breastfeeding. The easy-to-dispose liner inside the bottle gently collapses (like the breast naturally does when breastfeeding) which prevents air from mixing with the milk and getting into your baby's tummy. This air-free feeding helps to reduce colic as well.
With the disposable liner, you never have to wash a bottle again! Well, maybe you'll have to at some point. But I can't even begin to explain how nice it is to not have to wash bottles a million times a day. You just match the liner size (4oz or 8oz) to the site of your bottle, place the liner into the Nurser bottle and fill it with either milk or formula. Once the baby is done, you just remover the liner and toss it in the trash! Easy, right?!
In addition to the disposable liners, the Playtex Baby Nursers come with the Most Like Mom® NaturaLatch® Nipple which has a natural wide shape and a raised texture which helps the baby latch on naturally. Another great feature for those of you who breastfeed!
Right now, if you buy two 3-packs of Playtex Baby Bottles (Nurser or VentAire) between 7/1 and 7/14, you'll receive a $5 Target GiftCard. That's a pretty sweet deal if you ask me. So if you haven't tried out these bottles and are in need of some new ones, I highly suggest you take advantage of this offer and pick some up! I promise you'll love them as much as we do.
Now that the first 6 weeks are in the past, I'm even more excited to move forward and continue to watch our little one grow. Being a mom has been so rewarding so far and I'm so excited for everything that's to come.
How did you survive the first 6 weeks with a newborn?
SaveSave
SaveSave
SaveSaveSaveSave
SaveSave
SaveSave
SaveSaveSaveSaveSaveSave
SaveSave
SaveSave
SaveSave
SaveSaveSaveSave
SaveSaveSaveSave